"To the Dreamers" and "Thank You"
Hello!👋🏽
How are you doing?🌷
Unfortunately, I can't hear your response. 😔 Unfortunately, I can't completely see what you've seen or what kind of specific impact that's had on your mind, body, and spirit...but I hope you are held. I hope you can find some sort of a sanctuary out there. I know I definitely needed that...
I'm at my best friend's place right now...again in the Bay. Her cat keeps jumping on my laptop as I type haha. 😹 He's a fun writing partner. Incidentally, people keep telling me I might as well move up here since I tend to do a lot of stuff that's based in the Bay Area...who knows probably after my practicum/training, maybe...
But I came up here again because my friend's been injured for the past month or so and I really wanted to watch Mortal Kombat with her. We also celebrated a dear friend's birthday, so luckily another fun weekend with yummy food, human connection, laughter, and rich conversations. 😌
There was a rainbow 🌈 right above us during our celebration!☝🏽
Thank You!
Well, now that we've done this mini-check in...I wanted to go to the heart of this post. Although I've said this before, I still wish to say thank you to you dear reader...dear human in internet land. 🥰
For one, I honestly haven't had much time to do any marketing due to focusing on grad school, my practicum/training, and I guess being human in these current moments. And sadly, I can't see who's shared my website or my blog with others. I truly wish I could thank each of you for sharing or even for reading. You don't have to do any of that! 💖
I guess this is the disadvantage of not having an Instagram or Twitter. (Previously and now, I just go on people's pages to check and see when they're teaching classes...other than that I don't really go on.) I kept going back and forth on whether I should go on those platforms because I bet it would be easier to thank people and celebrate others too! I really hate that part of not getting to engage with other creators and other people so easily online. I might create an Instagram over the summer or towards the end of the year. We shall see.🤔
But any who...I wish those two words captured how much I appreciate folks' support. I don't know what you're going through...I don't know what you've experienced these past weeks or even years really...probably so many emotions...probably just in general... a lot. But thank you...thank you for being you...thank you for being here...thank you for any support you've given this random stranger who talks about her love for cartoons and constantly includes quirky gifs haha. I hope one day I can directly root for you too and root for your journey!!!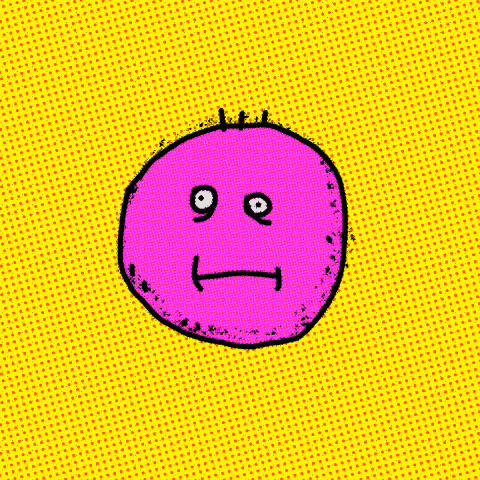 GIF by kinjiro
By the way, many people tend to tell me I live under a rock. 😅  I'm at a point where I only get to generally hear about things, people, and places through my circle who usually text me about podcasts or forward me emails. I know...I probably seem quite ancient haha. But, I'm just concerned about where I focus my attention. I admit, I might be taking this a bit too seriously and too far, but I also know myself and I have a great fear of not being mindful of what I take in or not being mindful of what I let influence me...
I know I don't process this world like many people do and I'm not able to navigate this world like many people do. Sometimes I wonder if my life would be a bit easier if I could be like others, but oh well I've got the mind I've got and I'll try to work with it. 😤🧠💪🏽 Yet, I really want this project to be sustainable for me mentally, emotionally, physically, and even spiritually. I'm okay (very okay) with slow progress. I care more about having real connections with people who care about what I create or share more so than anything. So, again...thank you.🙇🏽‍♀️💖
A Final Word to the Dreamers...or to the weird folx who constantly have their heads in the clouds like me!🌤️🖍️💡🪁
* 📸: Image of Langston Hughes by Gordon Parks 🤯
There are moments where I get overwhelmed and at times I don't know who or what to trust... or what to believe in. I wrote this in my journal. To this angst, I responded "Trust your heart." Right now that's the best thing I can do and I'm really trying to learn, but I decided I'm going to go at a pace that's sustainable for me and for my particular situation without pressure from the world to be, think, or do things at a specific timeframe.
Along with these reflections, I was journaling about many things that were bothering me. Something I wrote to myself was that I at least want to try. I want to dare to dream...but I was still unconvinced...was I allowed to dream? Amid everything going on...are my dreams even important? Well, I didn't come up with responses to these questions, but I finally cracked open a book titled Trauma Stewardship: An Everyday Guide to Caring for Self While Caring for Others. Before the book even begins, the author opened up with a poem from Langston Hughes titled the The Dream Keeper...which is the following: 
The Dream Keeper
by Langston Hughes


Bring me all of your dreams,
You dreamers,
Bring me all of your
Heart melodies
That I may wrap them 
In a blue cloud-cloth
Away from the too-rough fingers 
Of the world.
After reading this poem, I felt gently and warmly held by Hughes' words. I felt like he did hold, keep, and value my dreams. I felt like he answered my questions and understood what I was trying to get at or say in my journal. I wonder if he knew that a random dreamer in the very far future would still need to hear his words so as not give up on something so precious as a dream. I hope you feel held by his poem too, dear dreamer. If it's hard to find a place to rest out there...I hope the Underground Galaxy, this virtual/digital space, can be a playground and sanctuary for both of us. 
Take care and I hope you dare to dream too! I hope you keep those precious dreams and not toss them away like I was going to. Here's to making our dreams a reality!🙌🏽 🎉
Warmly,
Sandy from the Underground Galaxy 🌌🙏🏽❤️🍭🤸🏽‍♀️
P.S. 
I finally got my skateboard. 🛹
I shall share it next time!😙