I know! I know! 😣
I'm late...for our very important date! 🙏🏽
I was doing well to post by the morning on Sundays, but alas here we are a week later.
Well, I hope you are doing as well as can be during these times. Last week, was pretty stressful for me. It was the first and last time doing 19 intakes in addition to seeing my regular clients. It was also the last week of my final ever semester. At the end of that week, I asked my friend to help me film my second-to-last student project. So, was this past week a life-changing experience? Yes. Was my brain fried after? Absolutely.
I don't wish to celebrate yet until I have the paper physically in my hands, haha, but I have to say even this week was filled with lessons. It's like life said let's walk you through some things you need to work on. Having challenging, uncomfortable conversations: ✅. Being assertive: ✅. Setting boundaries: ✅. Humble your ass: ✅✅✅. I'm happy to say I survived, haha. I hope to get more comfortable in the areas of having open and honest communication, boundary-setting, and addressing my people-pleasing tendencies. One step at time, sandy. One day at a time.🥰
I bought these flowers made from recycled fabric! So beautiful.
As you can imagine, I decided to take myself out on several dates to celebrate my internal and external wins. I went to a local store and got some items for our home! They're really beautiful and most importantly my mom approved, haha. It was like an adventure going on these dates and all of my senses were pleased and nourished.
Octavia Butler's book Dawn
Then, I went to a local bookstore (one of my favorite places 😆)! I got a book on photography and Octavia Butler's book, Dawn. I decided to take a break this upcoming week to make time to rest, read, dance, pray, watch anime, read some more, go for walks with my life companion Snow 🐶, and whatever I feel to do to replenish and resource myself.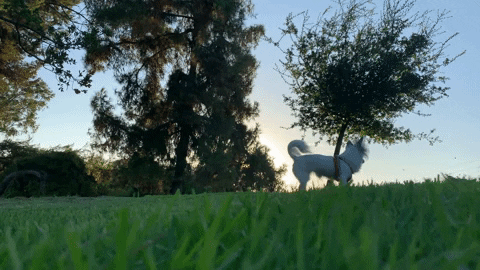 My awesome dog, Snow 🐶
These may seem like very boring, mundane, and so-called little things, but they mean a lot to me! Actually, it's probably the "little" things that make life so grand for me! They make me feel like I can still enjoy and find meaning in this journey. I've been pretty severe with myself lately and by lately I mean my whole life, but I'm trying to allow myself to be human and accept my position as a beginner in practically every endeavor I'm engaged in. This is extremely humbling, at times very embarrassing, and very exciting.
I'm trying to tell myself, "It's okay. It's okay, sandy. Imagine where you'll be even 5 years from now. Everyone has to begin somewhere!" As some wise people have shared with me, even those I respect and admire started where I am now. I think that's pretty awesome and makes me feel like yay I can reach my goals too! I just have to stay the course and all that entails.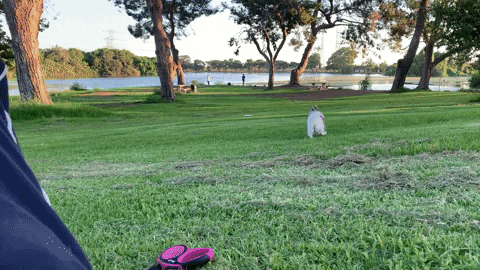 Snow's past life must've been as a rabbit 🐰 
Well, I'll keep it here for now. I hope you get to enjoy the "little" things as well! Whether that's a loved one's laughter, a meal with a loved one, a mini-adventure to the bookstore, watching your dog have the time of her life ☝🏽, spending your Sunday at a Law and Ethics workshop for your field (what was I thinking?🤦🏽‍♀️)...
Whatever that is for you...may you be present for it all and may you and your loved ones be safe and well. 🙏🏽❤️
P.S.
I was cleaning my car and found this card with a quote I bought a couple months ago from the bookstore. I just wanted to leave that with you. You may agree. You may not. I leave room for it all. ☺️
The last thing I'll say is during my break this week, I plan on finalizing my website and launching in two weeks. So, don't forget to sign up for the newsletter to stay updated on this process! And yup, you've guessed right. The image way above is the second of three designs semi-hidden for now.🙃
I'm telling myself to just release the burden of having things be perfect. Just keep practicing. Just get your work out there. Don't quit. Keep going. Right now, the most important things are for me to be honest in my art and designs and enjoy the hell out of this messy ass process. Once again, thank you for being willing to bear witness to this unfolding of... I'm not sure just yet.
The planet does not need more successful people.  
The planet desperately needs more peacemakers, healers, restorers, storytellers and lovers of all kinds.
-David W. Orr 
Take care🤸🏽‍♀️🐶,
Sandy and Snow from The Underground Galaxy