Growth, Transformation, & the Artist as a Storyteller- Part 2
I had to revise this post almost completely. It's quite hard for me to be insincere and I must admit there were certain events that left me with a sense of despair. I was listening to Spring Washam's opening to the Black & Buddhist summit and she captured some of what I was experiencing: deep and profound grief, rage, despair, and a sense of powerlessness. Yes, a lot.😅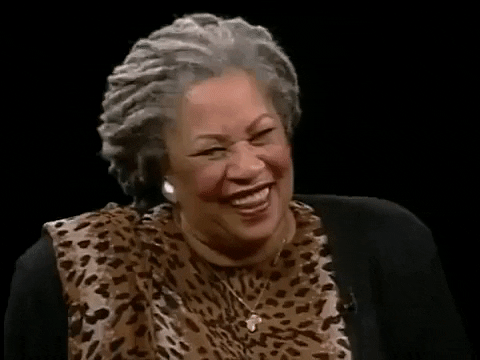 Toni Morrison Gif
So then I searched for this quote by Toni Morrison that I initially found on BrainPickings and went to the actual source of this passage. The following quote is from Morrison's essay titled No Place for Self-Pity, No Room for Fear. Morrison wrote the following:
Christmas, the day after, in 2004, following the presidential re-election of George W. Bush.

I am staring out of the window in an extremely dark mood, feeling helpless. Then a friend, a fellow artist, calls to wish me happy holidays. He asks, "How are you?" And instead of "Oh, fine—and you?", I blurt out the truth: "Not well. Not only am I depressed, I can't seem to work, to write; it's as though I am paralyzed, unable to write anything more in the novel I've begun. I've never felt this way before, but the election…." I am about to explain with further detail when he interrupts, shouting: "No! No, no, no! This is precisely the time when artists go to work—not when everything is fine, but in times of dread. That's our job!"

I felt foolish the rest of the morning, especially when I recalled the artists who had done their work in gulags, prison cells, hospital beds; who did their work while hounded, exiled, reviled, pilloried. And those who were executed...
Still, I remember the shout of my friend that day after Christmas: No! This is precisely the time when artists go to work. There is no time for despair, no place for self-pity, no need for silence, no room for fear. We speak, we write, we do language. That is how civilizations heal.

I know the world is bruised and bleeding, and though it is important not to ignore its pain, it is also critical to refuse to succumb to its malevolence. Like failure, chaos contains information that can lead to knowledge—even wisdom. Like art.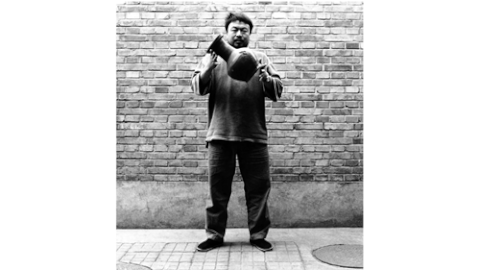 Ai Weiwei (one of the many profound artists mentioned in Toni Morrison's essay) Gif by PBS Digital Studios
I absolutely, highly recommend reading her entire essay. Incidentally, I feel quite connected to Toni Morrison and Frida Kahlo. They seem to appear when I most need them and their words and work guide me even if I can't see the entire path. However, their whispers at least lead me to the next or even two steps which is enough for me at this moment.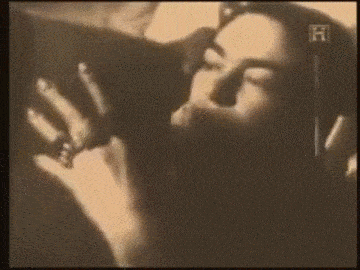 Frida Kahlo Gif
So, I leave Morrison's words to you and I hope to those being impacted whether by witnessing and/or experiencing anti-Blackness, anti-immigrant sentiment, anti-Asian violence, lack of resources in one of the so-called richest nations, literally not having access to the most basic needs of shelter, and really just so much violence against life on this planet...may her words lift you from despair. May the right wisdom guide you during these moments. I wish for much creativity and clarity to help us devise solutions that address suffering on this planet.
As the title of Alice Walker's book rightly claims, "we are the ones we have been waiting for." One of the sections on my home page states "for the next generation of conscious humans." The next generation is already here in my eyes and encompasses every living being regardless of age, race, ethnicity, religion, etc.
So, I guess there might be a part 4 to this (I had to save the original parts 2 and 3 for later 😅).These may just be a "weird Black kid's" ramblings and I might seem too (insert your word here), but for now I'm trying to share the things I need to hear and see the most at this moment...even if they only make sense and matter to me.😌
I seriously wish for you and your loved ones to be safe and well. May you and your loved ones also have moments of peace, joy, and laughter. If you are not experiencing this now, may it come soon for you. If you are experiencing this now, may these moments continue.🙏🏽🌅
from a fellow human,
-Sandy from The Underground Galaxy ✌🏽❤️👩🏽‍🚀
P.S. Update on what I wanted to launch:
I just got hired as a pre-licensed therapist, which means I will now have have a total of 12 clients. Yay! 🥳 I finally get to use my Spanish again (Gracias 'Ma for constantly pushing me to learn!🙏🏽👵🏼🇲🇽) And now I get to serve even more communities!🙌🏽🙇🏽‍♀️ But as you can imagine, in addition to grad school and everything this means I'll be pushing my deadline to March 21st (the latest being April 22nd near when I graduate😬). I'm also going to post at least biweekly now and hopefully I can soon get back to posting weekly. In the meantime, shop the current collection! 🤗 I can't wait to share what's next and hope you don't mind continuing to learn about life and art with me in the meantime! Please take care of yourself! This world needs you!
*(02/20/21: I just saw this campaign in my inbox sent by Chani Nicholas to support survivors of IPV in Texas. Please donate if you can. Here is the link!)
*📷: image of the amazing artist, human, and soul that is Bob Marley by Bill Fairs *