Several Palestinian flags being raised 
I hope people who read Parable of the Sower will think about where we seem to be heading—we the United States, even we the human species. Where are we going? What sort of future are we creating? Is it the kind of future you want to live in? If it isn't, what can we do to create a better future? Individually and in groups, what can we do?

- Octavia Butler
And in that spirit...💫
I'll just jump right in, below are some actions, readings, and resources. (Sorry. Unfortunately, I couldn't share yesterday's protest if you're  based in LA since I post on Sundays. But, I must say it was definitely something to hear so many children chant "Free Palestine!" as we marched. May their voices be heard all over the world. 🙏🏽 )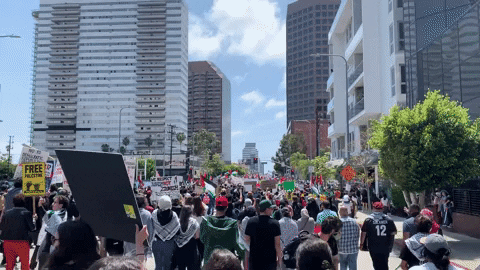 Los Angeles: Nakba 73 – Resistance Until Liberation Rally & Protest (May 15th)
Actions
1. "Rise Up with Palestine: Tell Congress to Sanction Israeli Apartheid"
-After signing the petition, the site provides a list of other actions and resources! Some are included below!
2.  "Vote in Favor of H.R 2590 and Against the Wrongful Use of American Tax Dollars"
3.  "#StopJerusalemExpulsions and #SaveSheikhJarrah"
4. Medical Aid for Palestinians
Palestinian Voices
Readings
Sites
a. The Palestine Reading List (I just got Freedom is Constant Struggle: Ferguson, Palestine, and the Foundations of a Movement )
Video/Film
2. 3 Ways the Media Enables Racist Violence
3. Marc Lamont Hill, Noura Erakat and Aja Monet on Black-Palestinian Solidarity
A Friendly Reminder on Self-care ❤️
 1. Angela Davis discussing radical self-care 
Again, a totally non-exhaustive list of readings, resources, and actions. Hopefully, though, this will be at least a little helpful. With that said, I truly am at the feet of so many people that have come before me and folks who've been doing and continue to do so much work. 
I wish I could honor every being on this planet that is trying to make this world a better place whether that has been through their art, activism, organizing, joy, healing, teaching, writing, food, care for self and others, and through so many other acts of resistance that often go unnoticed and/or dismissed. May we also honor you each day. Thank you and see you next week. 🙏🏽❤️🙇🏽‍♀️